PI IP LAW has been selected for South Korea's National IT industry Promotion Agency(NIPA)'s '2020 AI Voucher Project' and has signed an MOU on September 1st, 2020. PI IP LAW will be establishing an AI-based multi-dimensional technology classification system and AI monitoring system specialized for innovative technology companies through this project.
PI IP LAW's AI-based patent information analysis and monitoring service are an alternative and resolution to the structural limitations of current labor-focused services, which offer a better-suited yet more reasonably priced solution to each client.
Most technology companies in the initial stages of business find it difficult to dedicate their resources to forming an IP team due to financial difficulties and lack of expertise and resources in IP. Though the government supports these companies through governmental IP R&D projects, these projects tend to be one-offs and are often unable to provide fundamental help.
Many of these companies recognize the importance of IP in setting their R&D strategy, but are unable to carry it out due to the heavy burden of expenses. Such high pricing of patent information analysis and monitoring service is due to the current circumstances of patent attorneys sparing their time on patent technology classification. As it provides the basis for patent analysis, patent technology classification takes up approximately 80% of the whole process.
By introducing AI solutions to patent technology classification, PI IP LAW maximizes the work efficiency and hugely reduces the overall price, allowing patent attorneys to invest more of their time and resources in drawing out insightful analysis and engaging more deeply in client consultation.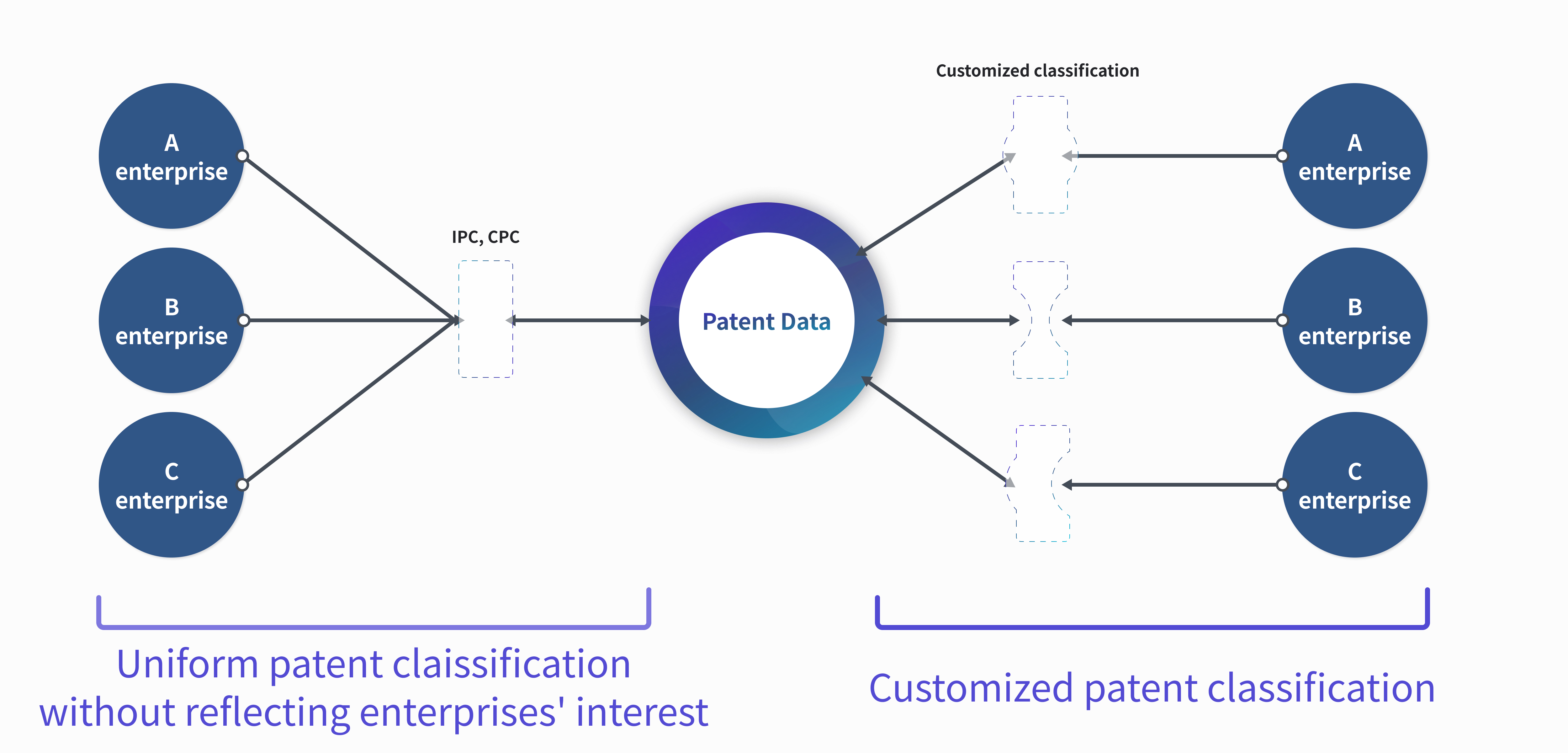 PI IP LAW's AI solution learns the multi-dimensional technology classification system which has been customized for each client's technology needs by our patent attorneys, and automates the patent technology classification process.
Currently, commercialized automated patent technology classifications in South Korea are mostly based upon systems such as the International Patent Classification(IPC). However, IPC and similar classification systems are designed for and targeted at patent registration review or patent search. As such, technology companies with a different outlook may not easily obtain desired information and outcomes from the current systems.
Technology companies need a classification system tailored to their needs instead of those targeted at a wider use, and a customized monitoring service of their competitor's most recent patent updates. 
Catering to such needs and demands, PI IP LAW's patent information analysis and monitoring service integrated with multi-dimensional technology classification helps innovative technology companies utilize them in setting up their business and R&D strategies to best serve their interests.