According to the Korean Intellectual Property Office, 23% of entire trademark applicants in the first half of 2020 have filed their trademark application alone without the help of a lawyer. It seems that many individual business owners are attempting to file their trademarks by themselves as the importance of trademark registration is being emphasized in Korea. 
Nevertheless, the increase in the number of self-applicants does not necessarily mean that registering a trademark has become easier. In fact, trademark registration is a difficult process as KIPO examiner attorneys can refuse registration based on a number of reasons which are all listed and explained on a Notification of Provisional Refusal, or Office Action. 
Then, what are the grounds for refusal an applicant is likely to receive? In this article, we used our statistical tools and focused on finding which are currently the most common grounds for trademark refusal in Korea and which are the hardest to overcome . 
Which are the most common reasons for refusal and their probability to overcome? 
Of the entire refusals, cases that violated Article 34 (1)vii and Article 38 (1) of the Trademark Act were about 25% and 24% respectively, which amounts to almost half of the total. The KIPO states that Article 34 (1)vii is a ground of refusal when an application is in conflict with another person's rights -the trademark is identical or similar to prior filed or registered trademark- thus prioritizing the rights that were established earlier in chronological order (first-to-file), and Article 38 (1) which applicants failed to file one application for each trademark and designate good/service to the trademark in the application. 
What is more interesting is that the two most common grounds of refusal for trademarks in Korea had a high probability (24.1% and 67% respectively) of overcoming the refusal and getting registered after filing a response with arguments and/or amendments to the application to mend the grounds of refusal. 
Not all rejection reasons have a high probability of overcoming like these two. According to our study on the probability to overcome the grounds for rejection of trademark applications, we also found an important decrease in the year 2020, that the probability to register a trademark after receiving a provisional refusal dropped 35% from 54.6% to 35.6% compared to the previous year as shown in the next graph.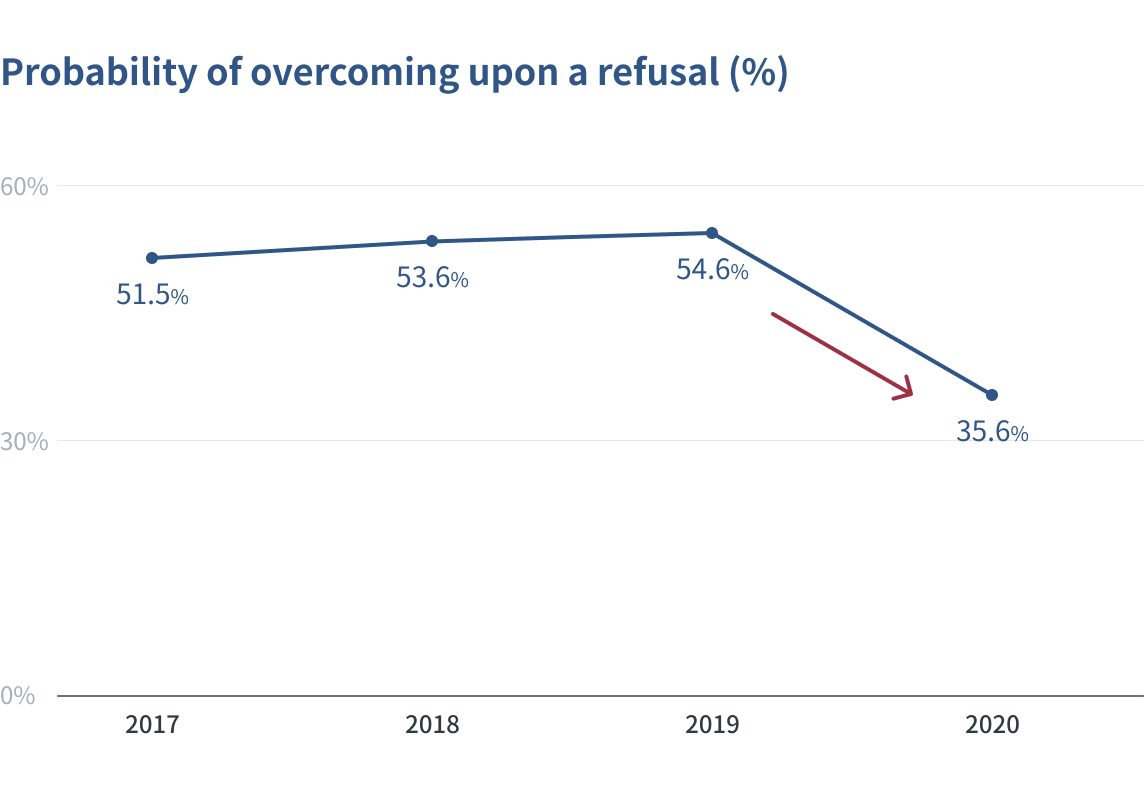 Then, which are the grounds for refusal with the least possibility to overcome? We obtained the list of the hardest reasons for overcoming a rejection by analyzing each OA from 2020 and extracting the reasons with the lowest percentage of registration upon filing a response to the OA.  
Which grounds for refusal are the hardest to overcome?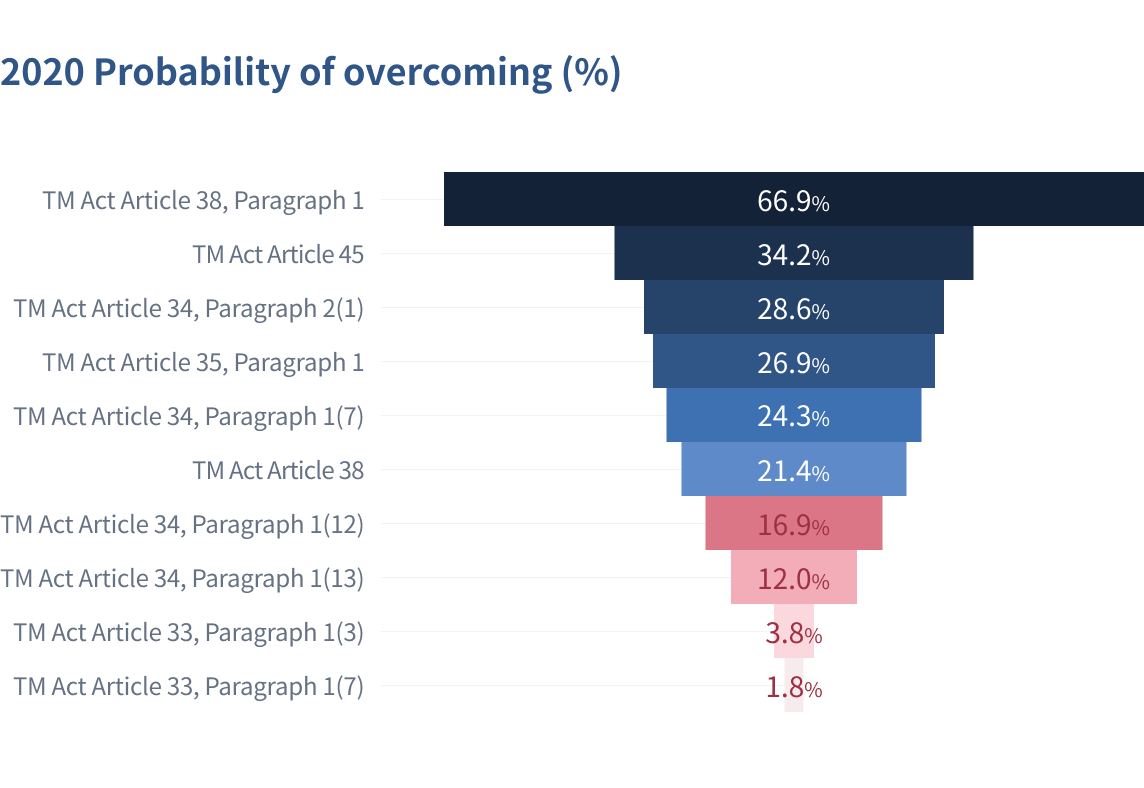 Through our analysis, we found that Articles 33 (1)vii, 33 (1)iii, 34 (1)xii, and 34 (1)xiii of the Trademark Act had barely 1.8%, 3.8%, 12% and 17% of chances to be overcome. 
So basically, under Articles 33 (1)iii and vii, a trademark may be difficult to register if: it has no distinctiveness, it is identical or similar to a prior-filed or -registered trademark, it causes confusion with another's well-known marks, or imitates another's trademark used in Korea or overseas. Also, Article 34 (1)xii and xiii refer to cases which are likely to mislead consumers about the quality of goods or deceive consumers and has a possibility to be used for unlawful purposes, such as unjust enrichment or inflicting loss on the specific person. In other words, if a trademark application has been rejected due to the aforementioned grounds, it would be highly difficult to overcome the rejection through amendment. 
In order to avoid this kind of refusal and successfully register a trademark, counseling with experts prior to filing your trademark application is a must. Those who manage to file trademark applications on their own may not be fully aware of these unexpected refusals or complicated procedures. Such troublesomeness can be prevented by utilizing a professional trademark attorney from the initial stage of registration, and conducting a thorough trademark search and setting up a powerful strategy to overcome rejection. A strategic consultation with a trademark attorney prior to filing a trademark application would eventually lead trademark applicants to save time and costs and protect their rights effectively.
You can read more about trademark searches or ask our attorneys.